Discover how Cahera can help your business succeed
The Cahera POS system helps retailers in providing first class products and services to their customers. Going beyond traditional cash register, retailers can save time and cost for both cashier and customer. It provides a complete view of your business from point of sale, inventory, purchasing, customer records and more.
Cahera also handles routine tasks like checking stock levels, store activities and item's in real time. Detailed tracking of sale, creating reports, dynamic monitoring of inventory and providing customer's information make retailers pay more attention in running their business.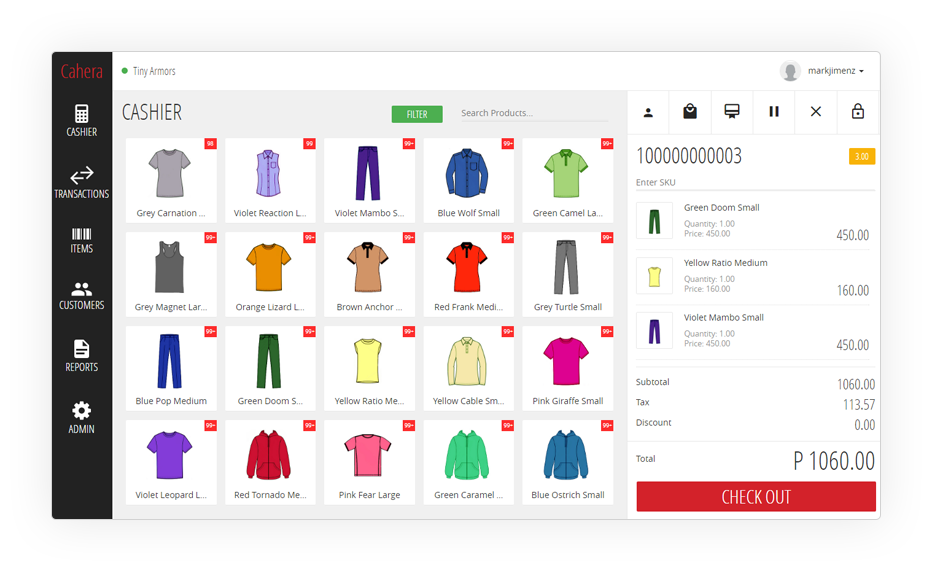 Be informed with what's going on in your stores in real-time with Cahera cloud solution.
Complete Retail Solution
Cahera's range of features provide everything you need to run your business.
Real Time Reports
Lots of instantly available reports, making real-time monitoring of your business possible.
Instant Notification
With multi-store support, you can manage all your locations into one solution.
Centralized Management
With multi-store support, you can manage all your locations with one solution.
Scalable Solution
Cahera supports large amount of items, transactions and inventory entries making Cahera a highly scalable solution.
Product Variations
With Cahera, managing product departments and categories is easy.
Still thinking twice of getting a POS hosted on the cloud? Try our Stand alone POS appliance Package.
Cahera in a box is the stand-alone version of native Cahera cloud. Application comes pre-installed upon purchase of the POS hardware package. Have freedom to manage your data on your hand locally. You can start your retail operation with Cahera in a Box and upgrade to Cahera cloud version anytime.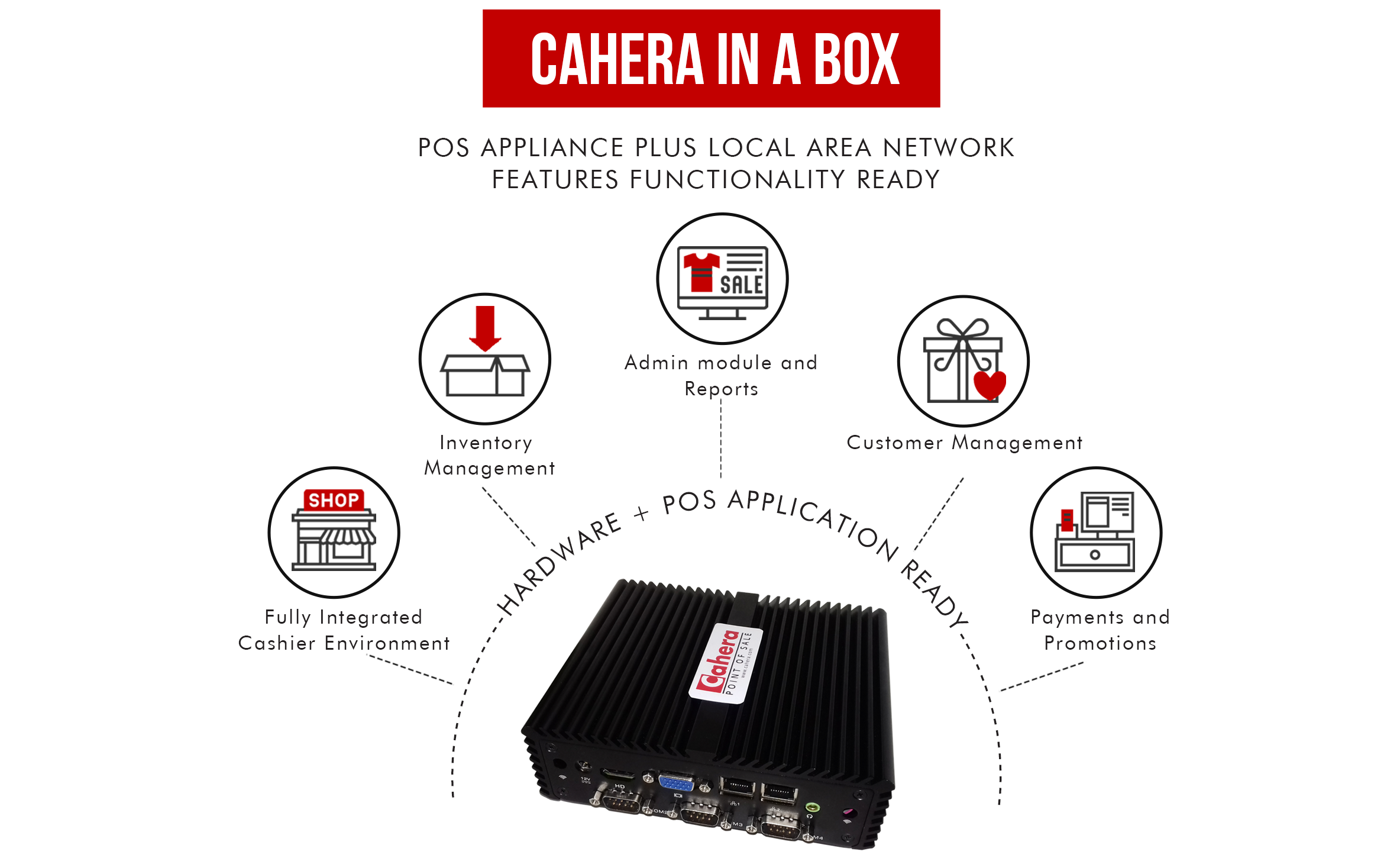 Cahera in a box package advantage
Great Package Deal
Pay one time and the entire package of POS Hardware plus the unlimited privilege to use Cahera application is all yours.
Application LAN Remote Host Ready
Do sales and other retail store system administration simultaneously.
Lessen POS Deployment Cost
With Cahera in Box offers in System Unit only, you can use your existing Monitor and other computer peripherals to cut deployment cost.
Mall tenant! Worry no more, we have a solution for your mall connectivity compliance for your point-of-sale system. We have customized a mall system application that enables your POS system to perform sales transaction to a third-party POS application of any mall operation. Reports can be customized according to the preferred reports of any mall establishment.
Our mall-hookup system is a web-based application that can support Windows and Linux operating system. End-of-day report and sales summary report are two of the things that can help you accomplish report compliance given by the mall administration to a mall tenant.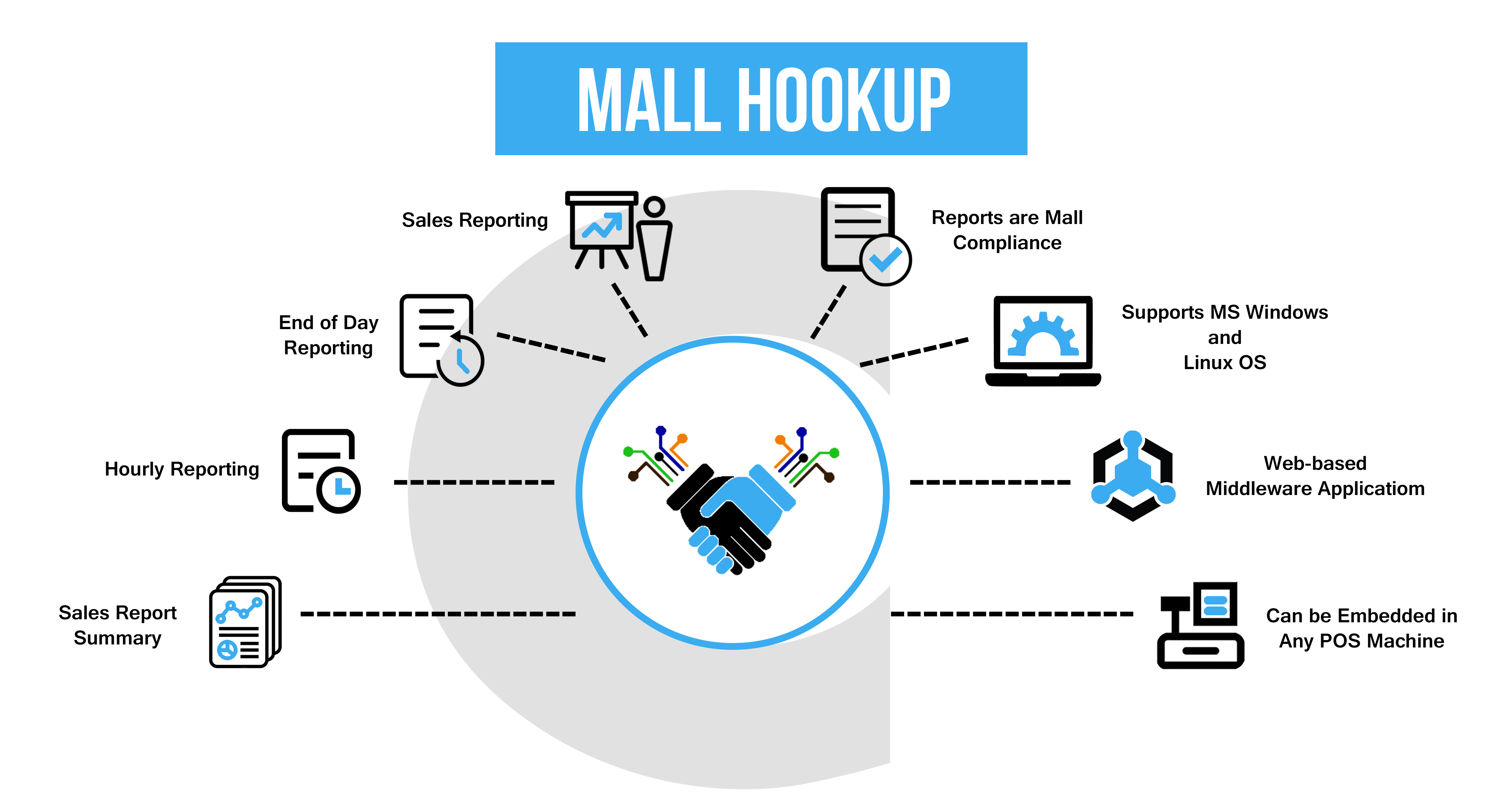 Frequently Asked Questions
What is Cahera?

Cahera is a cloud based point of sale system geared towards retail businesses. It is a powerful yet easy solution for retailers in providing first class products and services to their customers. Cahera also provides a complete view of your business from point of sale, inventory, purchasing, customer records and more.

Will Cahera work for my business?

If your business is in quick service and fast casual operations, there is a good chance it will work.

What does the Cahera monthly subscription fee cover?

The Cahera monthly subscription fee covers all features of the service and regular updates from the continued development. This also includes customer care via email.

If internet connection drops, what happens to Cahera?

Cahera can operate cash sales operations even without an active Internet connection. Your data will automatically synchronize with the server the next time the connection becomes available.

If I want to switch to Cahera, how can I upload my master file?

First, kindly export your files from your existing POS System and transfer it to the template provided by Cahera. You just need to provide these filled out templates during installation.

How can I export my data?

Exporting sales data with Cahera is easy using the Cahera Central app. Head to the Data section of the app and click the type of data you want to export. Data is available in html, pdf and csv formats.

What do I need to get started?

To start using Cahera, all you need is a desktop or tablet, a supported web browser and an active internet connection. Optionally, you can also connect barcode scanners, cash drawer, receipt printer and credit card reader
Is there any contract or obligations?

With Cahera, there is no long time commitment needed. You can terminate your subscription by providing a Non-Renewal Notice 30 days prior.

Which hardware is supported by Cahera?

You will need a mobile phone or a tablet or a desktop capable of running the latest versions of web browsers that are supported.

Does Cahera sell hardware?

We also offer a hardware package that includes a Receipt Printer, Electronic Cash Drawer, Barcode Scanner, and Credit Card Reader. We also offer all our hardware individually as well.

How long will it take for my hardware to arrive upon purchase?

If on stock, please allow us to deliver within seven (7) days upon receipt of Purchase order, otherwise 30-45 days lead time.

Do I get training?

Yes, you can find everything you and your staffs needs to stay on top of your Cahera installation, from documentation and training videos, to troubleshooting articles.

What does Cahera offer for customer support?

You can ask a question or describe the problem you're having by sending as an email, giving us a call, talk with us by chat messages or interact with us through our video chat platform.

How secure is my data?

With Cahera, your data isn't stored on your computer – if your laptop crashes, or gets lost, or stolen, all your data remains completely safe and unaffected. We take your data and its security very seriously. In fact, it is super critical to us that your data remains safe, and we constantly monitor and work towards closing any threats that might put it at risk.